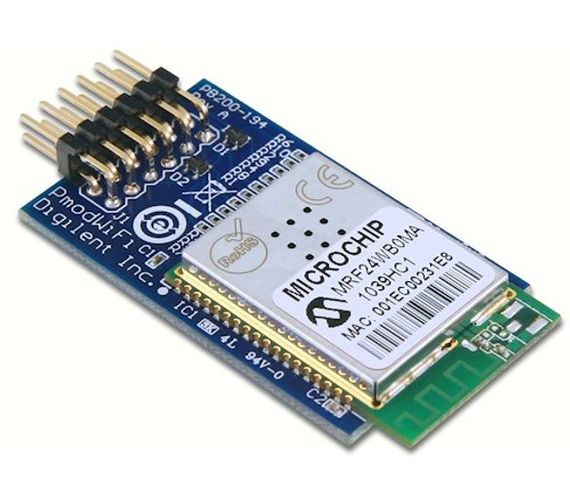 Pmod WiFi: WiFi Interface 802.11g
The PmodWiFi is an interface board for the Microchip MRF24WB0MA Wi-Fi radio transceiver module. The PmodWiFi can add Wi-Fi communication to any Digilent system board.
---
Référence de l'article VAR-827000817
---
En rupture de stock, réapprovisionement en cours
Retard d'expédition prévu au-delà du stock disponible: 1 semaine
---
---
Flexible peripheral modules for all your designs
Pmod™ devices are Digilent's line of small I/O interface boards that offer an ideal way to extend the capabilities of programmable logic and embedded control boards. They allow sensitive signal conditioning circuits and high-power drive circuits to be placed where they are most effective - near sensors and actuators.
Pmod modules communicate with system boards using 6, 8, or 12-pin connectors that can carry multiple digital control signals, including SPI and other serial protocols. Pmod modules allow for more effective designs by routing analog signals and power supplies only where they are needed, and away from digital controller boards.
Overview PmodWiFi
The PmodWiFi provides Wi-Fi access through the Microchip® MRF24WG0MA Wi-Fi™ radio transceiver module. Users can communicate with the IEEE 802.11g compliant chip through SPI and achieve data rates up to 54 Mbps.
Features
IEEE 802.11-compliant RF transceiver
Send data at 1 and 2 Mbps up to 400 m
Serialized unique MAC address
Integrated PCB antenna
Radio regulation certification for the US, Canada, Europe and Japan
Wi-Fi certified
Small PCB size for flexible designs 1.7" × 1.0" (4.3 cm × 2.0 cm)
12-pin Pmod connector with SPI interface
Follows Digilent Pmod Interface Specification Type 2A
Scope of Delivery
PmodWiFi - 802.11 b/g/n WiFi Interface
Pmod Hardware Compatibility Guide
Digilent's guide about determining hardware compatibility.
References
Manufacturer: Digilent Inc.
Manufacturer's article name: Pmod WiFi: WiFi Interface 802.11g
Manufacturer's article number: 410-194
Resources
Other Digilent products are available on request.
| | |
| --- | --- |
| ID de l'art. | 100705 |
| État | |
| ID de l'ancien article | 1964 |
| Modèle | 410-194 |
| Fabricant | Digilent Inc. |
| Pays de fabrication | Taiwan |
| Contenu | 1 pièce |
| Poids | 20 g |
| Poids net | 20 g |
---